Vitalik Says They Underestimated ETH 2.0's Development Time The crypto industry has been waiting for the completion of the development of ETH 2.0 for
Vitalik Says They Underestimated ETH 2.0's Development Time
The crypto industry has been waiting for the completion of the development of ETH 2.0 for a long time. The second version of the second most popular crypto project in the world promises huge improvements. It would solve most of the problems that the current version is having. It would also pave the way for greater adoption and huge scaling potential.
Doing so is very important as there are hundreds of projects that depend on Ethereum. They literally run on the Ethereum crypto blockchain. However, the development of ETH 2.0 has already taken a long time. It has seen delays upon delays which have disappointed almost everyone in the crypto industry. Even Vitalik recently said that they underestimated how long the key elements of ETH 2.0 would take to build.
Need More Time For ETH 2.0
Vitalik Buterin, the co-founder of Ethereum, recently appeared in a podcast. In it, he gave some great insights into the development of Ethereum. One key thing he revealed was that they underestimated how long it would take to build ETH 2.0. Or rather specific parts of it.
As everyone knows by now, Ethereum is going to switch over to proof-of-stake from the current proof-of-work consensus mechanism. This is a huge change. In fact, the very algorithm governing the ethereum alliance blockchain is going to change. So, obviously this has to be done very carefully. There is no room for error and so there has to be a lot of testing. Both in the development environment and in the real-world environment.
Also, "sharding" which will be another element of the new chain, is just as important. This too requires lots of testing. But that is not all. The dev team also has to ensure that all these pieces work in perfect cohesion. That is exactly why it is taking them so much time. And they failed to estimate the nature and scale of the work they were undertaking.
In the podcast, Vitalik revealed his thoughts about this issue. He said, "Had we known that it would end up taking us years, we probably would have designed the roadmap differently and thought about what the different teams would be working on different and making a lot of decisions in that regard in a very different way from how we are now, so, I think, definitely a lot of regrets and wasted time in that regard."
Launch Still Taking Place for ETH 2.0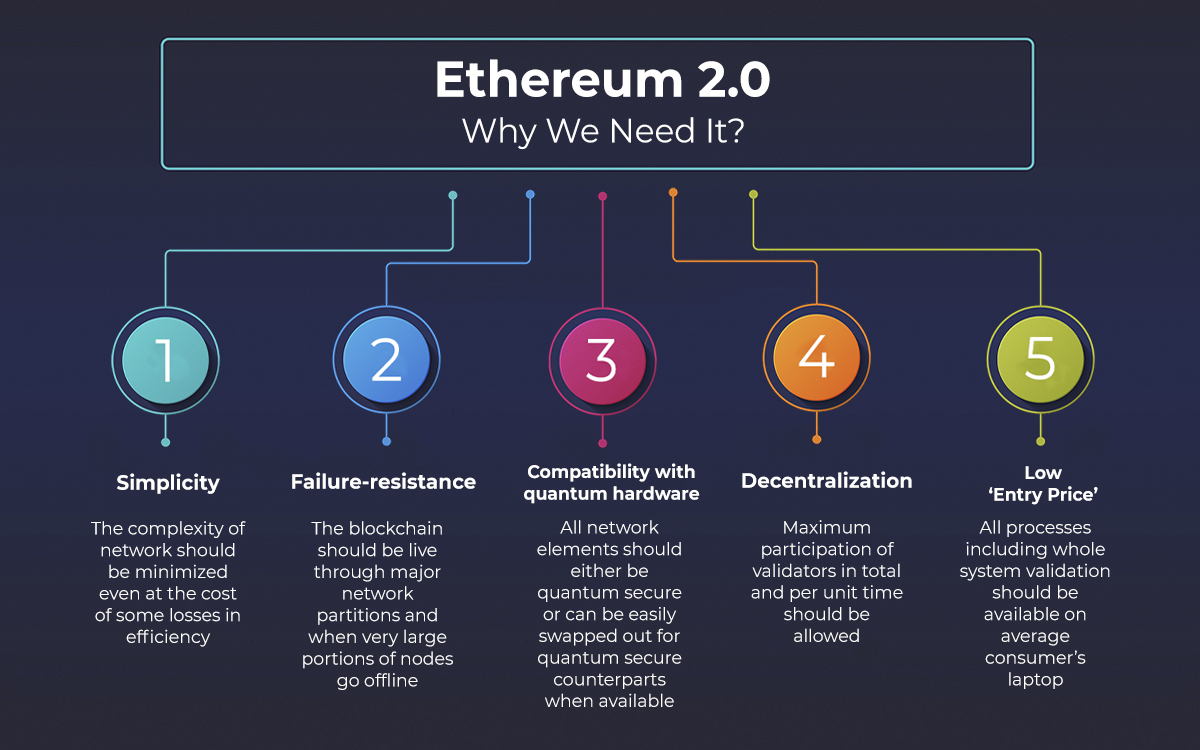 Even though the team has faced delays, the launch of the ETH 2.0 is still going to happen soon. It can be said that they are in the final stages of launching the chain. To make sure everything happens smoothly, they will be doing it in phases. It was originally planned for release in January 2020 but is now pushed back to some time in the future. When it releases, will it take over Bitcoin?